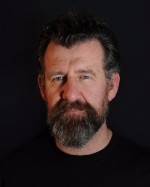 Steve Blount - Noel Lynch
Some theatre credits include; Ghosts, Monsters & Dinosaurs, Only an Apple, Savoy, Tarry Flynn (National Theatre, London), The Wild Duck, Judas of the Gallarus, She Stoops to Folly and The Pauper. (The Abbey Theatre). Hooked (Evil Little Genius, Irish Tour), Far Off Hills (Nomad Irish Tour), Swing (Intl.tour) and Tiny Plays for Ireland I & II (Fishamble: The New Play Company Kennedy centre Wa., & IAC in NY), A Streetcar named Desire (Gate Theatre), Across the Lough (The Performance Corporation), Bogboy (Project Arts Centre & IAC, NY), I Swapped My Dad for Two Goldfish (The Ark), Twenty Four (The Project Theatre), The Temple of Clown (Barabbas), The Night Garden and All My Sons (Northcott Theatre, Exeter), No Place Like Home (Tinderbox, Belfast), The Seagull (Corn Exchange),Oedipus (Gaiety), A Whistle in the Dark (Lyric Theatre, Belfast), Melody (Tall Tales), The Sin Eaters (New Balance Dance), Accidental Death of an Anarchist (Blue Raincoat), One and Martin Assassin of his wife (Pan Pan), Dirty Dusting (Gaiety, Ireland & UK) Waiting for Lefty (65th Street Theatre, Seattle) and Blythe Spirit (The Theatre Factory, Texas).
Film and television credits include: cheaters, Can't Cope Won't Cope, Moonboy, Titanic,Blood &Steel. Game of Thrones, The Race, 32A, Single Handed, Prosperity, The Clinic, Stolen Child, Stardust, Breakfast on Pluto, Fair City, Bachelors Walk, Glenroe, Agnes Browne, Mad about Mambo, Pips, Johnny loves Suzy and Though the Sky Falls.